It happens to me all the time at the thrift store…I find home decor that has perfect lines, just the right look, "Good Bones" but it's finished off with sloppy details, or an ugly color, or in this guy's case, iridescent glaze! One look at this bunny and I knew I wanted to make him look like weathered concrete!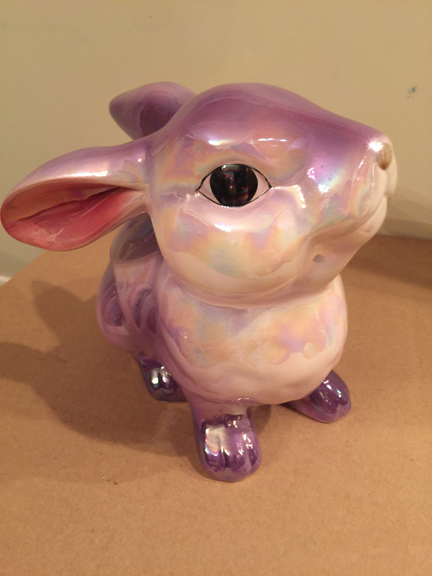 His features are so sweet, he is a perfectly proportioned bunny, just can't see myself or anyone else fitting iridescent purple into their Spring decorating!
Follow along with me here as I explain how easy it is to make him look like weathered concrete.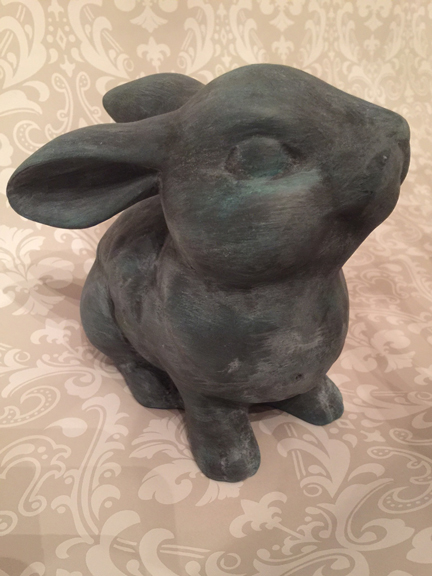 I used the following products to achieve this look:
Thunderous paint – I painted two coats of a nice dark, charcoal gray. Any dark gray or black would work for this. On most surfaces, this paint does not require prep other than a good cleaning and drying. If you find, however, your first coat not wanting to adhere, you may have to prime your surface. For small decor items, I use a gray spray primer, even the cheapest one at the hardware store does the trick.
Weathered White spray wax – Instead of spraying, I pour this into a small bowl and brush it on like a top coat. It is movable and workable for about a minute before it dries and leaves the surface sealed but still suitable for the next step.
Oxidized Patina Soft Wax – I work this in the surface with a small wax brush making sure to get that good, green, weathered look into all the nooks. Then I use a dry, soft cloth to rub and buff the surface to a matte, weathered finish. Find this and other paint products here on Amazon!
That's it! So easy! Amazon links are connected to my Amazon Associates account and I am compensated *minimally* if you happen to click the link and order, otherwise I am not being paid for this post, just sharing what I love to do!